"Slender mongoose!" Cathy Hue interrupts again, as if it's the first—and not the sixth—time one has darted across the dirt road ahead as we drive through Hluhluwe Reserve in South Africa.
Hue is a monitor and intern training manager for Wildlife ACT, a non-profit organization that monitors, researches and protects endangered species like the black rhino and African wild dog.
"I have so many friends who don't understand," she laughs. "I live in a little wooden shed, I don't even have my own bathroom. I work insane hours and people are like, 'Why on earth would you do that?' Well, I knew I wanted to work with wildlife. Whatever, whatever it takes."
Hue's passion and enthusiasm are famous among the volunteers that have joined her. She spends about three out every four weeks in the bush, doing anything from collaring a wild dog to freeing a rhino from a snare—though a lot of it is just finding the animals in the first place.
"[In] field guiding, it's about getting a very good photo. When you're involved in the conservation and research side, it's all about the animals."
"It's the most fantastic job if you ask me. You get up super early in the morning—the best time of day to be out in nature—and you never know what you're going to see," she says. "It doesn't matter who you are or where you're from, when you come to this park and see these animals, it's breathtaking."
Before Wildlife ACT, Hue had been a guide for tourists determined to see the "big five": elephant, rhino, lion, cape buffalo and leopard.
Though it fulfilled her dream of working for wildlife, she found the mission unsatisfying. "[In] field guiding, your focus is on the tourists and keeping them happy. They do have an interest in animals, but it's more about getting a very good photo," she explains. "When you're involved in the conservation and research side, it's all about the animals."
Because Hue found her calling late—she's now in her late 40s—she is often the oldest member among staff and volunteers. This kind of field work doesn't attract the middle-aged, she says, because of the isolation.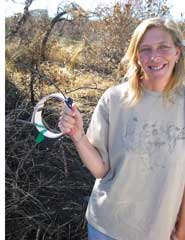 "You're in the middle of the bush, you don't have a normal social life," explains Hue, who never wanted children. "Most people go into it when they still have that adventurous side of them, [but] they realize at some point that they'd like to start a family and they move back to the cities."
When I ask her why she felt her work in conservation was so important, and she tells me a story about a few university students from Hong Kong who came to volunteer. On the first day, she pulled her truck over at a viewpoint so they could take pictures. But when she got out from the cab, the students were all pointing their cameras up.
"I thought maybe there was a vulture or something, so I looked up but I couldn't see a bird anywhere. So I said to the one volunteer, 'What are you taking photos of?' and he said, 'You have blue sky.'"
Hong Kong's smog is notorious and residents only see a few clear days a year. "It was such an eye-opener," remembers Hue. "If we don't conserve what we have, I just think the future will be so bleak."
Of course, conservation has its challenges, including community attitudes, cramped habitats, the ever-present financial limitations. And when asked about the fight against poaching, Hue asks, "Am I allowed to swear?"
But Hue is hopeful. "One of the biggest bonuses about a volunteer program like this is that volunteers spread the word," she says. "I educate them and then they go home and tell other people what they learned, and in that way we reach people we would never reach. . .Slender mongoose!"
Ways to Work with Wildlife in South Africa
African Conservation Experience (ACE)
Want to truly experience what it's like to be a game ranger? Try ACE's intensive two-week Game Ranger Experience. Based in South Africa, this programme allows volunteers to gain experience in animal identification, bushcraft, and mammal biology. Longer-term placements support animals that have been affected by poaching, such as orphaned rhinos. No experience is necessary, but ACE's programmes are the perfect fit for students who are interested in pursuing conservation, zoology or veterinary medicine. conservationafrica.net

Shamwari Conservation Experience
Get behind-the-scenes of conservation work at the Shamwari Game Reserve in the Eastern Cape of South Africa. Volunteers take part in everything from game monitoring and counting, to the restoration of landscapes, to research. For those who are looking to get up close and personal with animals, volunteers at the Animal Rehabilitation Centre aid sick and injured animals in their recovery and release back into the wild. Volunteers may stay for as little as two weeks, or for up to more than three months. shamwariconservationexperience.com
Wildlife ACT
Working on game reserves in KwaZulu-Natal (including Somkhanda Game Reserve, Mkuze Game Reserve, Tembe, Hluhluwe-iMfolozi and Zululand Rhino Reserve), ACT conducts intensive endangered species monitoring work. Volunteers with Wildlife ACT will find themselves tracking animals on a daily basis, including African wild dogs, cheetahs, leopards, lions, black rhinos and vultures. Placements last for between two and 12 weeks and can be tailored for academic credits, including undergraduate coursework, dissertation research or learning modules. wildlifeact.com
Add this article to your reading list