When I started my postgraduate program in Denmark, there were a lot of numbers I needed to get comfortable with. I needed to know that 100 Danish Kroner is roughly $17. I needed to know that the 1A bus came by every 15 minutes. I needed to memorize my new eight-digit phone number. I was also expected to learn classroom numbers of all my lectures.
Even though that's a lot to take in, I was expecting these things. What I wasn't expecting was getting used to a new grading scale.
In Denmark, they don't deal with percentages. They also don't like the traditional alphabet grading system. Things like "I got an A-" or "this paper deserved more than a B" mean nothing to the Danes. This is what they use: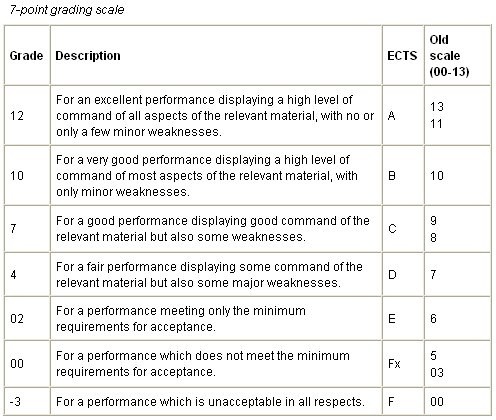 The current Danish grading system is the 7-trins-skalaen or the "7-step-scale." It was introduced in the 2007 academic year and replaced the 13-skala. On this scale, 00 and -3 are the two failing grades, and 02 is the first passing grade. The leading 0 in 00 and 02 is to prevent any fraud with the final grade. Furthermore, 4 is considered fair, and 7, 10 and 12 are roughly equivalent to our Canadian C, B and A respectively.
As you can imagine, they Danish professors don't hand out 12 (or A) as much as we are used to seeing in our Canadian school system, because for us, A+ is the big one. It also takes me a while to self-evaluate my performance after I get a grade because until now, 10 used to mean a perfect score.
You are probably wondering the same thing one of my Polish classmates asked when this scale was introduced to us, "Who on Earth thought it was a good idea to come up with a 7-point scale where 12 is the highest score?"
Our professor replied, "Great question!" and moved on to the next topic.
If you want to read more about the Danish education system, check out the website for The Ministry of Children and Education.
Add this article to your reading list