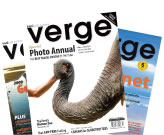 Verge believes in travel for change. International experience creates global citizens, who can change our planet for the better. This belief is at the core of everything we do.
For ten years, Verge has produced quality events and resources to help people experience the world in a meaningful way, through opportunities to study, work and volunteer abroad.
Go Global Expo
Verge produces Canada's largest work, study, volunteer, travel expo, the Go Global Expo which is held in Toronto, Vancouver and Montreal.
Verge Magazine
Verge Magazine is North America's premier magazine for exploring opportunities to study, work and volunteer abroad.
Verge was launched in 2002, in response to increasing interest in international opportunities and the need for a meaningful perspective on the options available. We believe that travelling with purpose is a great thing to do—and the best way to get to know the world. Our aim is to help you get out and make it happen!
In 2008, Verge began to serve subscribers of Transitions Abroad Magazine, which is no longer published. Verge is now distributed across both Canada and the United States, providing perspectives from both sides of the border.
Verge is published quarterly, and in 2014 switched to an entirely digital format. Subscriptions cost $1 per month. Click here to subscribe. To view a sample digital edition, click here>
Credits
We acknowledge the assistance of the OMDC Magazine Fund, an initiative of the Ontario Media Development Corporation. We acknowledge the financial support of the Government of Canada through the Canada Periodical Fund of the Department of Canadian Heritage towards our project costs.
Add this article to your reading list