Latest News

If you wish to meet individually with elite international business schools this is the event just for you!
A new pledge to increase study abroad numbers: the latest news in work, study and volunteer abroad.

Voting is now open for our 2013 photo contest finalists. Check out these 50 outstanding travel images.

After 15 years, Aung San Suu Kyi's call for a tourism boycott has been lifted. But debate around travelling in Burma remains relevant.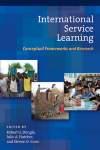 A detailed examination of why, and under what conditions, international service learning programs can be an effective teaching strategy.