Latest News

Go Abroad China arranges paid internship placements with Fortune500 companies in Beijing and Shanghai.
Thanks for your interest. The contest deadline has now passed.

After 15 years, Aung San Suu Kyi's call for a tourism boycott has been lifted. But debate around travelling in Burma remains relevant.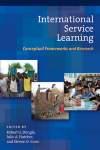 A detailed examination of why, and under what conditions, international service learning programs can be an effective teaching strategy.