Latest News
An Endeavour Research Fellowship, valued at up to $23,500, provides financial support for postgraduate and postdoctoral students to undertake short-term research (4-6 months) towards a Masters or PhD or postdoctoral research in any field of stud in Australia. 
Win a volunteer trip to Kenya and study abroad safety: the latest news in work, study and volunteer abroad.

After 15 years, Aung San Suu Kyi's call for a tourism boycott has been lifted. But debate around travelling in Burma remains relevant.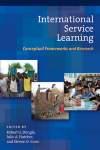 A detailed examination of why, and under what conditions, international service learning programs can be an effective teaching strategy.