For International Women's Day, Cuso International celebrates and recognizes its volunteers and partner organizations working to improve the lives of women and children around the world. Torontonian Mikaila Ross is one of those Cuso International volunteers currently lending her expertise to an organization in Myanmar that supports and advocates on behalf of women, empowering them by providing opportunities to gain independence and earn a living.
I pick up a clump of rice noodle in my bare hand – just enough to fill my finger tips, and pull up until it separates from the rest. I take a bowl, still dripping wet from the washing station, give it a shake and drop the noodles inside, putting a spoonful of garlic oil on top. The bowl is passed to the woman standing beside me. Her name is Khamon; she ladles hot Mohinga soup on top with a spoonful of banana bark before passing it again. Before the steaming bowl reaches the person who ordered it, it passes through two or three more pairs of hands.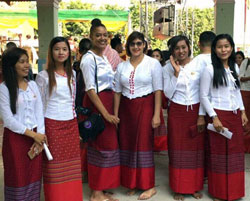 Here at Pao Mon (which translates to Mon Kitchen), in Mon State, Myanmar, there's always a bustle in the restaurant. The small group of women running Pao Mon are keen to preserve their culture through cooking, but the business is also giving them an opportunity to earn an income.
In a community where enterprises are primarily run by male Burmese and Chinese migrants, Pao Mon was developed as a way of sharing and preserving Mon culture through food service and cooking classes.
The women working here are part of Mon Women's Organization, which works for to empower women through training and education. The organization advocates at government levels for women's protection, putting specific emphasis on preventing sexual and gender-based violence. Mon Women's Organization bridges the gap between rural undeveloped villages and new governmental legal systems. The organization also provides a safe haven where survivors and their families can stay when they are in need.
I've been a cooking school teacher for eight years in Toronto, and I've come to Myanmar on a six-month assignment as a volunteer with Cuso International, a development organization that works to reduce poverty and inequality through the efforts of highly skilled volunteers, partnerships and donors. My role here is to help the restaurant develop a marketing and business plan, and clarify its business goals. I will also be helping them to turn the restaurant into a cooking school.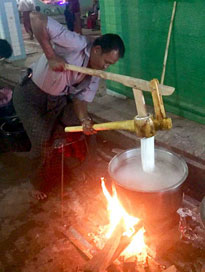 At present, Pao Mon has a staff of five incredible women responsible for cooking, cleaning, finances, hospitality and service. The food they cook is widely regarded as the only authentic traditional Mon food in Mawlamyine, the capital of Mon state. All ingredients are fresh from the market, and the food is prepared and cooked right before serving. It has a homey feel that brings comfort and warmth to its guests. In a community where enterprises are primarily run by male Burmese and Chinese migrants, Pao Mon was developed as a way of sharing and preserving Mon culture through food service and cooking classes.
I look down and realize that I'm down to the last serving of noodle. I turn back to face a woman kneading a ball of rice flower dough in a large bowl on the floor, and a man using all of his strength to push down on a large wooden noodle press, resting on his knee and angled over a hot pot of water. Beside them, squatting women deep-fry gourd on a makeshift burner—three bricks placed in a circle with a pile of coal burning in the centre. The eldest lady, adhering to a legacy of batter mixing experience, stirs the bowl with her hands feeling for the perfect consistency. Another woman, one with "Teflon hands," coats the gourd in batter and lowers pieces into the pot of boiling oil on the burner. The last woman scoops up perfectly crispy pieces of "Ley" with a metal colander and places them in a bowl, to be carried off and plated with a side of fish sauce.
Closer to me, two women squat before buckets of water and soap, arranged in gradation from greenish-brown to perfectly clear and bubbly. Saryar, one of the restaurant staff, gets up from the dishwashing station with a stack of dripping bowls and places them in front of me. "Mikaila," she asks, "what are you staring at?" I quickly realize that my curious gaze at the parade of activities has been holding up the assembly line.
Before coming here, many people said to me, "I'm sure you're going to have so much to offer; you'll teach them so much." But, in fact, it is these women who are constantly teaching me. The women at Pao Mon teach me how to cook with different street side herbs and plants, how to cook five dishes at once with only one burner, how to turn any vacant space into a surface for chopping and prep, and how to turn any side alley of a monastery into a fully operational pop-up kitchen. Daily, these women inspire me with their drive, positivity, and resilience.
Learn more about volunteer placements with Cuso International here!
Add this article to your reading list