It's 2 a.m. and Jade Bielski is at the bottom of a cave in Costa Rica, watching a group of dirty, garbage bag-clad people trying to squeeze a stretcher through a crack. For Bielski, it's just another day at the office.
As an expedition leader and guide training instructor with Gapforce, staging mock rescue scenarios like this is just one of the many tools she uses to teach up-and-coming guides the skills they need to be top leaders. She says she has to laugh sometimes when she stops to look around at the strange situations she finds herself and her students in.
A specialist in jungle expeditions, tropical ecology and jungle survival, Bielski's work has taken her to 14 countries on five continents. She's currently based in Costa Rica heading up Gapforce's programs in that country.
Verge Magazine caught up with Bielski to ask about the realities of leading expeditions in remote, sometimes inhospitable, environments and what it takes to be a top-notch guide.
What sort of things do you do day-to-day?
Bielski: I am responsible (with one other leader) for Gapforce's operations in Costa Rica, which include marine conservation projects, medical elective placements, school group programmes and also the Expedition Leader Training (ELT) programme. Day to day, most of my time is devoted to the ELT programme. I'm responsible for the overall camp and team, including logistics and safety. I also run various skills training sessions and mentor the candidates to help with their personal development and give feedback on their performance.
How did you get your job and what skills or experience contributed to your current role?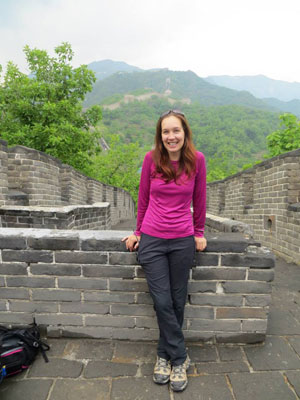 I participated on a Gapforce Expedition Leader Training (ELT) programme and then succeeded in getting a job running the trekker group in Belize. I've also been a college lecturer and have done a fair amount of independent travel, which has helped immensely. My speciality is the jungle—specifically in the areas of wildlife, the environment and ecology. I also have skills in expedition and wilderness medicine and survival.
How important is previous overseas experience, such as interning or volunteering abroad?
I think previous overseas experience is vital. An ability to deal with being far from home and being in a new environment and a new culture is important. As a leader, you have to be able to turn up in any country and quickly feel comfortable so you can turn your focus toward your team.
When you volunteer or intern often you are interacting with a wide range of people in a more professional way, and often with non-English speakers. These are all skills you need to work in the industry.
What are the most important skills and abilities necessary to succeed?
You have to be a good "all-rounder". It is no good being amazing at the technical stuff if you are always late and disorganized. And it's no good being a real fun person if you are unsafe. The more broad your skills and experience, the better. You have to have a very strong work ethic, you need excellent organization skills and an ability to adapt to the situation as it changes—and you have to be kind and patient.
How about personal challenges?
One of the greatest challenges is losing contact with people back home due to the amount of time I am away and with little email contact.
Other than that, I think the biggest personal challenges I face relate to people's interactions with me as a female leader. I have experienced a lot of resistance and at times outright rudeness and confrontation from some males who just don't seem to be able to take advice or instruction from a female.
Any advice for others who would like to do this sort of work?
Be open to all job offers at first. Get as much experience in a range of environments, countries, group types and expedition types as you can. Get in touch directly with companies and express an interest, don't wait for a job to be advertised.
Always try to improve your skills and knowledge; it will make you stand out as being a really great leader, rather than just a leader doing a job.
This interview has been edited for length. Read the full interview in the upcoming Summer 2016 issue of Verge Magazine.
Add this article to your reading list