Staying connected while on the road is an essential for me, whether it's to finish a writing assignment for work, plan out my next trip, or just to stay in touch with family and friends back home. But a reliable internet connection is not always easy to find.
A few years ago I landed in Australia and, faced with a looming work deadline, instead of exploring Melbourne, my first order of business was to track down a library with free WiFi and stay put until I had finished writing a magazine article. In Naples, London and Sydney I've had trouble signing in to airport WiFi and was unable to communicate with fellow travellers on different flights or connect with an awaiting ride.
At the moment, I'm living in Scotland's far-flung Orkney Islands. I rely on a mix of temporary internet solutions to do my work. I sometimes use my phone as a mobile hotspot, which gobbles data at warp speed. Other times, I'll work from the library, although the nine-to-five operating hours don't always jibe with my schedule. Other days, I hold court at local coffee shops, using unsecured internet and wearing out my welcome after an hour or so.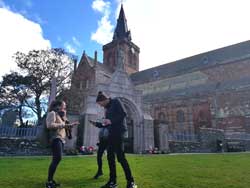 So I was excited this week when I had opportunity to test out a portable WiFi hotspot. This particular device is from Vision Global WiFi. It's a no-contract rentable unit that can be used in over 130 countries—from Russia to Japan, Chile to Turkey. Users simply enter a password for instant connection to fast and secure internet in any area that has cell reception.
Armed with my new hotspot, I decided to spend the day working from and exploring Kirkwall, the largest village on Mainland Orkney. In a café just off the town's main street, I sipped a latte while answering emails. The secure connection meant I didn't need to worry when I had to log onto internet banking or send work-related emails. I stayed connected while wandering around the town centre, checking Google Maps for shop locations and messaging a friend on Facebook to meet for lunch. Later, at the Kirkwall Library, I had plenty of data remaining for an afternoon of work. The hotspot stayed hidden away in my bag all day, practically forgotten until I wanted to check my usage.
Costs
The Vision Global WiFi plan that made sense for me was the Europe Unlimited 4G Advanced package. The plan's one Gigabyte of high-speed internet per day allowed me enough data for a full day of work with enough to spare for personal use: messaging with friends and the occasional quick Skype or low streaming quality TV show. There is also a 'Basic' plan available—which includes up to 500 MB of 4G-LTE—and a truly unlimited 'Max' plan available to people travelling in the States, Japan or Korea.
The daily rate for most of the plans is roughly the price of an expensive coffee or a cheap beer. If your trip is longer than 10 days but shorter than 30, a flat daily rate applies. Beyond 30 days, a discounted daily rate takes effect (this may vary from country to country.) A rate calculator on the Vision Global WiFi website provides a quick quote, but if you're visiting multiple countries, it's best to call for a tailored plan.
You'll need to place your order online at least four days before your departure and the device will be shipped to your home address. Airport pick-ups and drop-offs are only available at LAX and some airports in Japan. If your travel plans change unexpectedly, you can cancel your plan up to five days before your rental period is slated to start.
Though the daily rates are fairly low, the cost of a hotspot can add up for a long trip. The daily fee doesn't include the cost of delivery and return shipping ($8 to deliver and $8 to return). Optional insurance, covering either 80 percent or 100 percent of the cost to replace a broken hotspot, is available for an additional fee ($3 per day for full coverage). It would be worth comparing this to the cost of adding insurance coverage for your devices onto your regular travel insurance policy, but make sure you know exactly what that coverage includes.
International adapters for charging the device can also be rented ($1 per day) although it may be more cost effective just to buy your own if you need it for more than a couple of weeks.
A 1 GB Advanced plan for a 14-day trip to Europe would cost $181.20, including full insurance and shipping costs. It's worth noting that, because the connection can be shared by up to 10 devices at any one time, the cost could also be shared if you're travelling with a group of people.
Extending the length of your plan once you're abroad will cost you a hefty $20 per day, so plan ahead and ensure you can return the device within one day of the end of the rental period.
Performance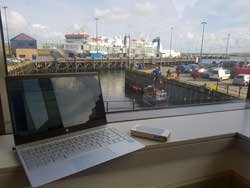 Internet speed with the hotspot was always good, there was no noticeable throttling and the connection was reliable nearly everywhere. I did experience a few lapses in connectivity (messages wouldn't appear on my phone immediately or I couldn't get a Skype voice call to connect), but this happened in areas with intermittent cell service—a norm in Orkney.
The battery lasted two full days, which meant I didn't have to worry about finding a charging point while I was out and about. The screen of the hotspot acts primarily as a usage meter, making it easy to keep an eye on my megabytes. The daily data limit refreshed at 12:00 a.m. local time and the constant internet access was a nice change from having to ration limited monthly data.
The hotspot is lightweight enough to carry around easily. The version I received was about the same length and width as a standard cell phone but twice the thickness—a bit too large to carry without a bag or jacket pocket.
It's important to weigh how much internet you're likely to use daily and how important secure, continuous connectivity is while you're travelling. For long-term travellers or those visiting multiple countries, renting a portable hotspot may be cost-prohibitive.
However, if you're a traveller who wants easy, virtually continuous access to fast internet without relying on international roaming, SIM cards or public WiFi hotspots, this could be your solution. If you're working on the go—especially if you're working or travelling in a group—and you need a fast, secure connection to get the job done, a portable WiFi hotspot may be the perfect international sidekick.
How to get the most from your WiFi hotspot:
• Make sure your plan is suited to the amount of internet you'll need each day while away. After you reach the daily limit on a Vision Global WiFi plan (500MB or 1GB of 4G-LTE), the device will slow down before resetting at midnight local time.
• Switch off automatic software updates on the devices you're using. All those updates can chew through your data in a hurry.
• The portable hotspot works off the local cell signal, so you can only expect good service in places with cell reception.
• Avoid watching videos (or switch to a lower streaming quality). An hour-long program could use all of your daily data.
• If cell reception in your hotel, hostel or friend's house is poor, try perching your device in a window to maximize signal.
Sponsored content disclosure: This article was produced by Verge Magazine's content studio on behalf of an advertising client. No part of this article was created by the advertiser and opinions and observations of the reviewer are her own. Links are not endorsements by Verge Magazine.
Add this article to your reading list