Amsterdam's winding canals, cobbled streets and striking mix of intricately gabled 17th canal houses and cutting-edge modern architecture make the Netherlands' capital an instant charmer. Easily accessible from all over Europe, each of its main districts offers something unique. Amsterdam is consistently ranked among the top European destinations for travellers. If you're headed there and aren't sure where to start, here's quick guide to the "Venice of the North."
Oost (East Amsterdam)
Amsterdam's bohemian quarter, Oost, offers a marriage of industrial charm and artistic flair and, as a result, has attracted lots of creative types. The winding streets have a lot to offer in terms of contemporary exhibition spaces, lively bars and an assortment of restaurants.
Check out: Amsterdam Roest—an industrial city beach, complete with BBQ and drinks—perfect for a sunny day.
Noord (North Amsterdam)
The Noord is Amsterdam's most alternative corner. Boasting an urban-chic vibe with boutique coffee shops and lots of different flea markets, the Noord is home to Amsterdam's most fashionable residents. The most famous part is the NDSM-Werd, a former shipyard which now hosts street artists, skateboarders and lots of visionary activities.
Check out: Pilek—a unique restaurant located inside a shipping container, serving delicious eco-friendly meals accompanied by a spectacular view of the city.
De Pijp
Named after its industrial past, De Pijp is multicultural haven. With people from all nationalities comes its offering of original activities and a unique energy. At the centre of its vibrancy lies the Albert Cuyp Market. With over 100 stalls, this market offers an ever-changing array of cuisines from all over the world.
Check out: The Heineken Experience—an interactive guided tour of the original 19th century brewery.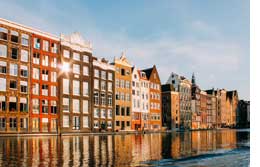 Museum Quarter
Despite being Amsterdam's most expensive area, it makes up for it with its incredible location and picturesque architecture. Vondelpark is a must visit, preferably by bike (do as the locals do) for a cycle through one of Europe's most scenic places. As its name suggests, this district is rich with interesting and famous museums. The Van Gogh Museum is an absolute must and the Rijksmuseum and Stedelijk are also popular choices.
Check out: The Het Concertgebouw. Renowned for its incredible acoustics, the concert hall is worth visiting for an evening performance.
Jordaan
The district of Jordaan is where all the cool cats hang out. Bursting with energy and packed with bohemian flair, it offers a host of lively nighttime activities. Complete with cute, narrow streets, plenty of canals and market stalls filled with tulips, this area epitomizes the best in Dutch culture.
Check out: The Anne Frank Museum.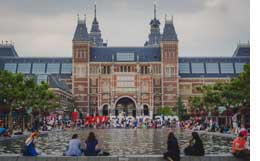 Canal Ring (Grachtengordel)
Officially designated a UNESCO protected site in 2010, Amsterdam's famous Canal Ring district, known as Grachtengordel by locals, is one of the most beautiful parts of the city. Shaped in a horseshoe, the Canal Ring connects De Pijp and Jordaan districts, the perfect travel hub for reaching different parts of the city. Home to Amsterdam's largest canal, visitors can spend the afternoon strolling along it with plenty of restaurants and bars along the way.
Check out: Amsterveld —a beautiful bar in a secret courtyard to the east of the Canal Ring.
Centrum
Overflowing with architectural beauty, including the Royal Palace, the famous Dam Square and The Stadsschouwburg Theater, Centrum offers a range of historical gems. Centrum is also known as Amsterdam's most desirable district for nightlife, boasting two popular gig spots (Paradiso and Melkweg). All the best bars and clubs are also located in Centrum. If you're a night owl and wondering where to stay in Amsterdam, Centrum is your best bet.
Check out: The De Oude Kerk 13th-Century church for a fascinating look into the past.
Sponsored content disclosure: This is a paid article. The content was created by an advertiser and represents the views and opinions of the advertiser, who is responsible for all of the material contained in the article. Links are not endorsements by Verge Magazine.
Add this article to your reading list